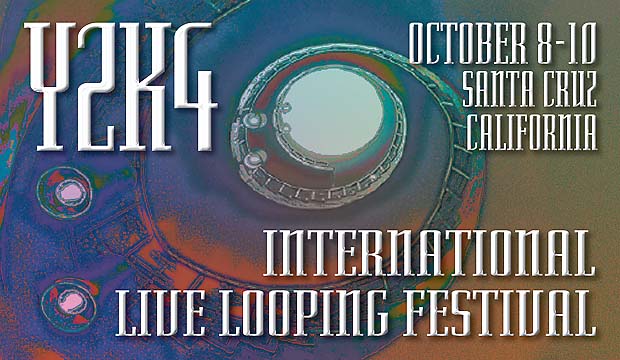 Intro
On October 7th, 8th, 9th, 10th and 11th 50 live looping artists from several countries and all around the US performed at the largest event of its kind in history: the Y2K4 INTERNATIONAL LIVE LOOPING FESTIVAL in San Francisco and Santa Cruz, California. ETHERIC NETWORKS of Santa Cruz provided the internet connection to simulcast the entire two day main festival.
Featuring artists from as far away as Japan (Sunao Inami, Japan's most prominent live looper), Switzerland (promising newcomer, guitarist Bernhard Wagner), and Iceland (sound artist and instrument builder Kitundu) the festival featured the creme de la creme of this burgeoning international musical movement (there were 20 live looping festivals in 11 countries in the last 12 months and Looper's Delight (www.loopersdelight.com), the mecca website of the movement averages about 900'000 page views per month). There were also several proprietary live looping technologies that had their debut at this year's festival.
The live looping movement has no musical style or genre that defines it. Indeed, there were performances by solo guitarists, percussionists, multi-reed and brass musicians, vocalists, circuit bending artists, found sound artists, as well as avante garde electronic musicians. It is defined by the technology that allows the musicians to digitally clone themselves while playing live in front of an audience.
Along with headliner Sunao Inami (Kobe, Japan), the festival presented featured performers Michael Klobuchar (guitarist from Pittsburgh, Pennsylvania), Bernhard Wagner (guitarist from Zurich, Switzerland), Ted Killian (guitarist from Medford, Oregon), and Kid Beyond (beat boxer from San Francisco, California), Kitundu (sound artist and instrument builder from Iceland).
The main festival occured on Saturday and Sunday the 9th and 10th in Santa Cruz where all 50 loopers performed on two stages with continuous music from noon to midnight but kicked off in Santa Cruz with a free concert on Friday night, October 8th with individual concert performances by Sunao Inami, Bernhard Wagner and Michael Klobuchar. The night before, the Inami/Walker/Wagner International Looping Trio (with festival organizer Rick Walker on found sound, percussion and electronics) performed at the prestigious new music venue, Luggage Store in San Francisco.
Rick says, "We have had really great festivals in the last few years here in Santa Cruz, but this event tops them all in its scope and the sheer number of musicians who played at it. It was wonderful to have the eyes of the whole international looping community on us for this weekend.
Headliner Sunao Inami and featured artist Bernhard Wagner were on air Oct. 9th 2004 at KZSC Radio 88.1FM, Santa Cruz discussing electronic music, live looping and the Y2K4 Live Looping Festival. (pictures).
There's a review of the festival by Cat Hebel of Santa Cruz Live.
Schedule
| What | When | Where | How Much |
| --- | --- | --- | --- |
| Concert featuring Sunao Inami, Rick Walker, Bernhard Wagner. (Opening act: Serge Baghdassarians & Boris Baltschun) | October 7th, 9:00-10:00 pm (Opening act: 8:00 pm) | LUGGAGE STORE, 1007 Market St., San Francisco (mapquest, yahoo map), pictures by Sunao Inami and Michael Klobuchar, comment by Rick Walker. | $6-10 |
| Concert featuring 8:00 Michael Klobuchar (USA), 9:00 Bernhard Wagner (Switzerland), 10:00 Sunao Inami (Japan) | October 8th, 8:00 pm | QUESTION MARK GALLERY (in the Pearl Alley Bistro building), 1101 Pacific Ave., near Cathcart Street, across from the China Szechwan Restaurant in the new University Building, in the back facing the parking lot. (mapquest, yahoo map) pictures by Bernhard Wagner | Free admission to the public, all ages welcome! |
| Festival: 50 live looping artists performed 30 minute sets on two stages without interruption. | October 9th-10th, noon to midnight | RESONANT CHURCH, 429 Pennsylvania ¼ block south of Soquel Avenue (mapquest, yahoo map) pictures of 9th and 10th by Sunao Inami, pictures of 10th by Bernhard Wagner | $10 USD for each day with no one turned away for lack of funds. |
| Annual Looper's Brunch | October 11th, 1:00 pm | THE CATALYST, 1011 Pacific Avenue (mapquest, yahoo map) | Free except for price of brunch. |
Confirmed Appearances
Hint: Click on the table's column headers to sort the entries by that criterion.
| | | | | | |
| --- | --- | --- | --- | --- | --- |
| When | Act | Origin | Instrument | Style | Stage |
Legend:
1: headliner
2: featured performer
3: festival organizer
4: official stage manager
5: world premiere of live-looping software MultiLoop Live from WS Designs
T-Shirt
Don't buy the piggy in the poke, but after seeing that t-shirt design there's no holding back...
Organization
Festival Organization

For more information or to set up interviews with any of the visiting artists or the organizer please write Rick Walker at or call +1 831-425-8659.

Official Stage Manager

Chris Cohn
Webcast
Credits
Poster/brochure and Website artwork design: Ted Killian
Poster/T-shirt photography: Andrew Kaiser, www.absoluterealitystudios.com (for "The Spiral").
T-shirt design: Rick Walker
Stage management: Chris Cohn
Simulcast organizer: Bernhard Wagner
Streaming bandwidth provided by: ETHERIC NETWORKS
Webmaster: Bernhard Wagner
All the artists who have donated all of their time and who have all travelled to perform at their own expense.

The Y2K4 Loop Festival wants to especially thank the kindness and generosity of Neil DiScala who graciously donated the use of the Resonant Church for the main festival. We couldn't have done this wonderful event without you, Neil.

We are deeply sorry that guitarist Roberto Zorzi has been forced to cancel his
performances at the Y2K4 festival. His partner is very ill and he will be
staying in Italy to minister to her. Our whole community sends all of its
healing thoughts and prayers for her swift recovery. We'll see you next year,
Roberto!!

This festival is run on virtually no budget.  The fact that it has become so
big and wonderful is a testament to the live looping community all over the
world.
None of this would have been possible without the existence of 
Loopers Delight, founded and maintained by Kim Flint.
He just told us that this incredibly informative and exciting website has 
over 900,000 page views per month now. Thanks Kim for all of your energy, 
time and financial contribution to this community.

See you all there, I hope!!!!

yours,  Rick


Rick Walker - festival organizer

---
Last Update: Sat Aug 5 03:43:10 2006 Santa Cruz time (Sat Aug 5 12:43:10 2006 GMT+1)